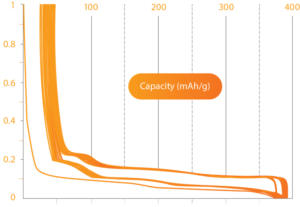 HALIFAX, NOVA SCOTIA — (Newsfile – April 06, 2017) ELCORA ADVANCED MATERIALS CORP. (TSX.V:ERA | Frankfurt:ELM | OTCQB – ECORF), (the "Company" or "Elcora"), is pleased to announce that the Company is building a state-of-the-art Lithium Ion ("Li-ion") battery research and development laboratory Halifax, Nova Scotia.  The lab will focus on quality control and develop Elcora's graphite anode powder for Li-ion batteries.
Graphite powder will be routinely tested using industry standard cells to ensure the coulombic efficiency, reversible capacity, first-cycle loss and rate capabilities of the product are within Elcora's specifications.  These traceable results will give customers confidence in Elcora's materials and their reliable performance.
The research and development laboratory will test graphite from multiple sources anywhere within the supply chain; directly from the mine, processed, or refined graphite, and convert it into fully functional Li-ion batteries.  Our capabilities include:  mineral processing, refining, graphite particle size reduction and sizing, spheronization, purification, electrode slurry mixing, electrode slurry coating, drying, slitting, cell fabrication, cell testing and advanced electrochemical analysis.
Having a research and development laboratory in-house will provide a short turn-around cycle of evaluation.  This will allow the improvement and optimization of our manufacturing processes throughout our supply chain and to verify a consistently high quality product.
"The establishment of the anode and battery laboratory will give Elcora the ability to quickly turn-around testing and evaluation of multiple sources of graphite throughout the supply chain as well as providing accurate performance details for clients", said Troy Grant, Elcora's President & CEO, in addition "this capability will give Elcora a strategic advantage both in its production and its marketing".
The Company also announce that further to the February 2, 2017 news release, the Board of Directors of Elcora did not issue the 2,000,000 stock options (exercisable at $0.35 for 4 years) that were granted to certain officers, directors and consultants to the Company.
Ian Flint, Ph.D., P.Eng., is the Qualified Person as defined under NI 43-101 who has reviewed and is responsible for the technical information presented in this news release.
http://www.stockhouse.com/news/press-releases/2017/04/06/elcora-builds-anode-and-battery-testing-facility